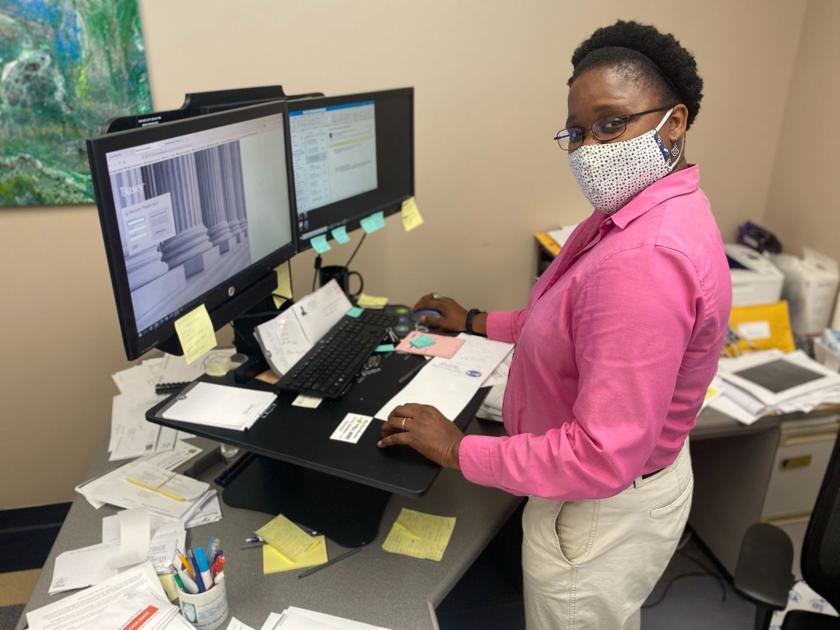 Champaign County treasurer Cassandra 'CJ' Johnson at her office at Brookens Administrative Center in Urbana.

Jim Rossow/The News-Gazette
Three things you might not know about Champaign County Treasurer CASSANDRA 'CJ' JOHNSON: She was brought up in Brooklyn, enlisted in the Air Force at age 17 and comes from a family of public servants.
Oh, and one more thing: She absolutely, positively abhors shopping.
"After about 10 minutes in a store, I can feel myself breaking out in hives," Johnson says. "Usually, my spouse shops for me and only occasionally forces me to go to places like the farmer's market, which is acceptable shopping."
Voted into office seven months ago to fix what her opponent called a "dumpster fire" of a department, Johnson got right to it, steering the treasurer's office back on track — just as she vowed she would as a candidate "always driven to help my organization improve."
Her unique background positioned her to get results, no matter how tall the order: During her 22-year Air Force career, Johnson served as a Hebrew and Arabic linguist, a weapons' intelligence analyst in Iraq, a financial manager/operations supervisor in Germany and a diplomat in southeast Asia.
Johnson took time out to answer a few questions from Editor Jeff D'Alessio in the 81st installment of our weekly speed read spotlighting leaders of organizations big and small.
My single favorite moment of all-time in this job was … helping out a customer who from start to finish was roasting me.
I felt like it was one of the best moments as I was helping her out while she was doing a standup routine at my expense. This only got more hilarious when one of my colleagues informed her that I was the treasurer and she really started teasing me.
I can't live without … my music and my weird sense of humor. It's what brought my spouse and I together and I tend to have a song in my head at any given time, which usually helps me keep laughing on the inside despite the situation.
For example, when I have a difficult person I'm trying to help, I usually associate them with a song in a funny way and that helps me stay centered and smiling when dealing with them.
My philosophy on meetings is … K.I.S.S. Keep it short and simple because otherwise you lose people.
No one is excited about sitting through a real-life soliloquy.
The hardest thing about being a leader is … keeping a healthy balance between compassion and accountability.
If you've built a good team dynamic, they're like a family and it's never fun to argue with family.
Well, unless you're right. LOL.
My one unbreakable rule of the workplace is … communicate. If you don't tell someone what is wrong or what you mean, you shouldn't be upset when they can't read your mind.
Also, you might not like the crazy things they come up with if you make them guess.
The biggest business risk I ever took was … to leave my linguist job to go work as a diplomat. It worked out because the additional skills I gained there helped prepare me for this job.
The last luxury in which I indulged was … traveling to Greece, Jordan, Egypt and Israel prior to retiring here. By far the best part was Petra, as I finally got to experience the history — including the Treasury.
The most beneficial college class I took was … an ethics course I took while doing distance learning with California State University-Dominguez Hills.
It was beneficial because not only did we get to delve into the content surrounding the topic but we had an instructor who assigned us books for which the only one we had to pay was the professor's. Talk about a crash course in questionable ethics.
I'm up and at 'em every day by … 5:30/6 a.m. Though there is usually 20 minutes of putzing involved before I do some schoolwork and then head off to the office. I've been a morning person since I was tiny so there's no hope for me now.
The worst job I ever had was … working at a cafeteria my first year of college. The work was cool and I got to meet a lot of people but my boss was like an evil stepmother.
On a 1-to-10 scale, the impact of the pandemic has been a … 6. Prior to all of this, we had planned trips to Hungary, Vietnam, Fiji and Puerto Rico. Aside from that, the lack of interaction definitely gave me a sense of cabin fever.
Thank goodness for people behaving and allowing us to open up more.
###[ad_2]
Originally Appeared Here