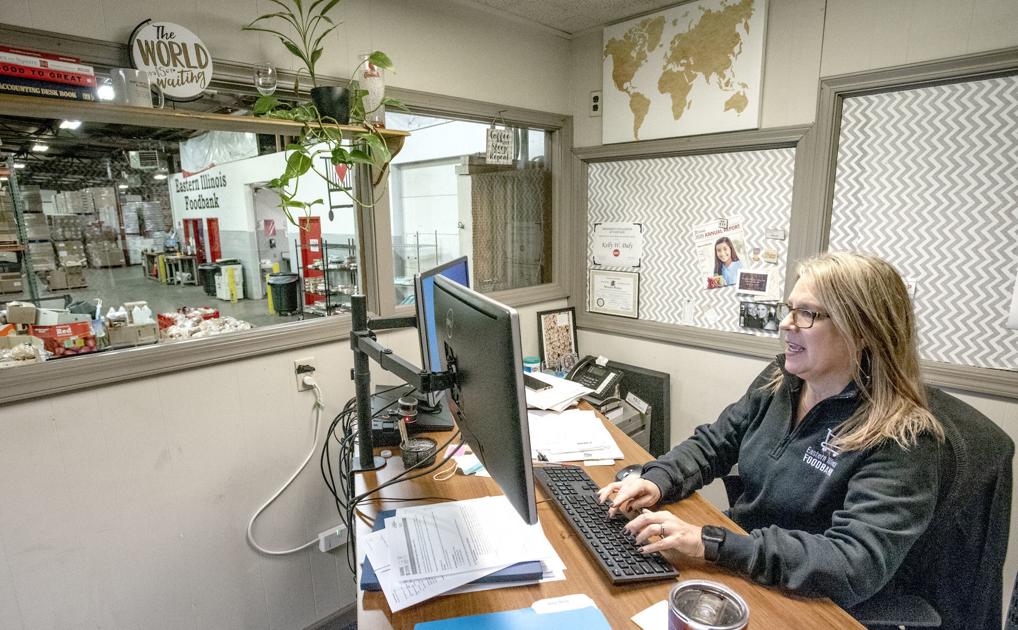 Kelly Daly in her office overlooking the warehouse at the Eastern Illinois Foodbank in Urbana.

Robin Scholz/The News-Gazette

Rule No. 1 of the workplace at the Eastern Illinois Foodbank: Thou shalt not have to do anything that the boss wouldn't do herself.
"Even if it is something I don't know how to do, I will offer to learn," KELLY DALY says. "I have offered on multiple occasions to learn to drive a forklift — no one has taken me up on that yet. I am not sure they want me on that thing."
A Sidney native who now calls Philo home, Daly is three months into her new job — president and CEO at the Urbana-based non-profit she joined 22 years ago as a part-timer.
Jim Hires' successor took time out to answer questions in the 85th installment of our weekly speed read spotlighting leaders of organizations big and small.
I can't live without … my family and friends, who get me through the tough stuff by providing counsel and much-needed laughter.
I also can't live without coffee, wine and french fries.
The hardest thing about being a leader is … disappointing people. There never seem to be enough hours in the day to accomplish everything.
My single favorite moments in this job involve … working Foodmobiles with staff and volunteers. It really is the sum of all the behind-the-scenes efforts coming to light.
It reminds me why we do what we do here at Eastern Illinois Foodbank. Being able to see and talk with the person receiving the food is priceless.
When it comes to my philosophy on meetings … they are hard, especially during a pandemic and in a business like ours with varying schedules.
This is an area I hope to improve.
My food bank mentors are … of course, Jim Hires. He and I worked side-by-side for 15 years; his commitment is unwavering.
Linda (Peggs) Wulf, former EIF executive director, was the first to ignite my passion for this work and the Eastern Illinois Foodbank.
The worst job I ever had happened when … my brother talked me into walking beans when we were kids. I barely made it through half of the day before I quit. It was awful.
Babysitting is a far better summer job. It taught me early on the value of liking/loving your job.
I'm up and at 'em every day … around 5 a.m. I don't set an alarm, it just happens.
The operational side of a food bank is a very early business; that was magnified during the onset of the pandemic. Now, it is habit and a habit I wish I could break on weekends.
As far as my exercise routine goes … I just acquired a treadmill that I use with my standup desk. It had a learning curve but I think I have mastered it.
I hope this will help my otherwise failing exercise routine.
When it comes to the last luxury in which I indulged … I don't indulge in big things much, but I did trade in my car for the exact same model with more features.
A girl can't live without a built-in sunglass holder.
On a 1-to-10 scale, the impact of the pandemic has been a … 10. The beginning was a real struggle — the demand for our services soared while the ability to find food fell.
It was a perfect storm I never imagined but the EIF staff is amazing and came together to meet the need. I learned a lot of lessons on a professional and personal level.
Being able to hold an in-person all-staff meeting will be a day to celebrate.
###[ad_2]
Originally Appeared Here