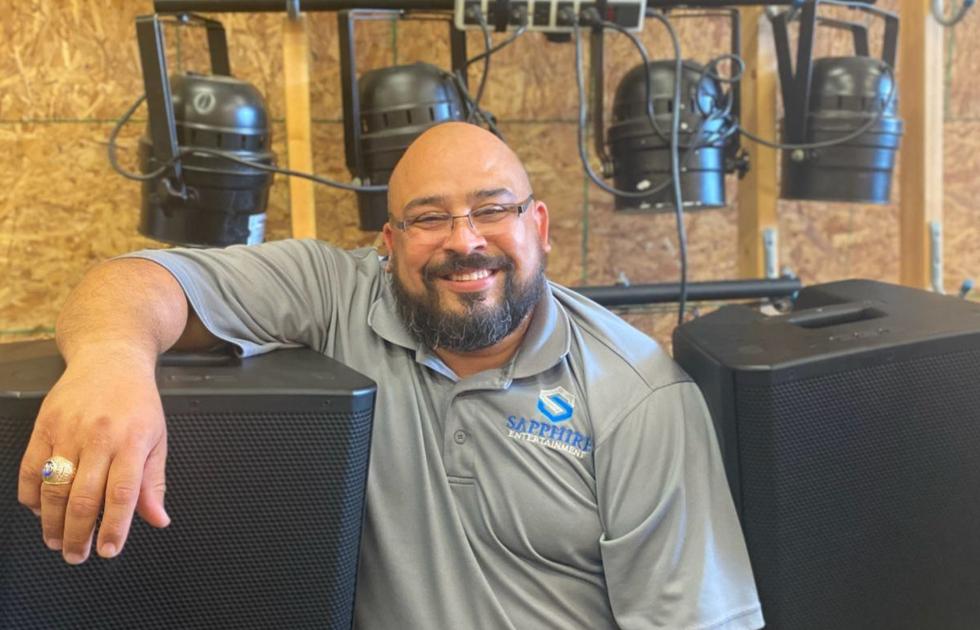 Part 8 of our summer-long series on area businesses impacted by the pandemic
CHAMPAIGN — Weddings have always been recession-proof.
But nobody knew until the spring of 2020 that ceremonies such as wedding receptions were not pandemic-proof.
Ceasar Perez, owner of the Champaign-based Sapphire Entertainment, a disc jockey service that provides music and entertainment for parties and receptions, was among those hit hard by the cancellation of events due to the COVID-19 pandemic.
"I went from doing two to four weddings per weekend for the months of March through November, all the way down to a total of six events — and that was in September and October," he said. "Those were all outside events and of course, we had to be safe and follow all of the guidelines in place."
According to the WeddingWire Newlywed Report, couples hire an average of 15 wedding professionals such as caterer, florist, and of course, band or DJ. All of those industries suffered in 2020, specifically from mid-March through the remainder of the year, the most lucrative months for weddings and events.
"March 15," Perez said. "That was the last event I did before the pandemic. It was in Tuscola. I had no idea what was to follow. There was so much conflicting information and nobody really had a sense of what was going to happen."
That next week, Perez's phone rang not with new opportunities, but with postponements and cancellations. The spring and summer months are the most lucrative for weddings.
"Everything was canceled, just one right after another," he said. "We do stuff for the University of Illinois with graduations and games and events. But we didn't have any control over anything. If there was an event, you couldn't have a dance floor. You couldn't allow people to dance. It was frustrating."
While Perez worried about his own business, he had other concerns as well.
"My main concern was for the couples that this was affecting," he said. "You take one of the most important days of someone's life and anybody who has planned a wedding knows how stressful that can be, and then tell them that basically, you can't get married. I felt so bad for all of these people and their families that had looked forward to their wedding date for so long. And then, to have this happen."
Perez is busier this year, but hesitates to say "things are back to normal."
"One of the things we are seeing is that all of the 2020 brides had to push their dates back and reschedule for 2021," he said. "So now you have a situation where the 2020 brides are fighting with the 2021 brides over dates and plans.
"Also, people had rescheduled for the early part of 2021 and then, three weeks before the event, postponed it again. So, there are a lot of moving parts."
If the pandemic proved one thing to Perez, it is that he has a deeper understanding of his role in the planning of a wedding.
"Good wedding DJs are difficult to find and very rare," he said. "We have to make sure the bride and groom have everything they need and that we execute the plan they have given us. When the pandemic hit and events had to be postponed, you still have to fill that role.
"I'm a Marine and I just contacted everyone and reassured them that we are here to take care of you and will be ready whenever the time is right. The fact is that being part of a wedding event is an important job and you have to make sure the couples get through that stressful day. If something comes up, make sure you are there to help them even in times like this."
Perez knew that one day, the pandemic would be over and events would once again be held.
"I sincerely appreciate and still appreciate the people who helped us stay in business during this time," he said. "We still booked events for 2020 and 2021 and have some dates for 2022 and 2023 already. We wouldn't have been able to stay afloat if it weren't for people believing in not only what we do, but the way we do our thing.
"We are all going to get through this together and when we do, let's celebrate and have a great time."
###[ad_2]
Originally Appeared Here