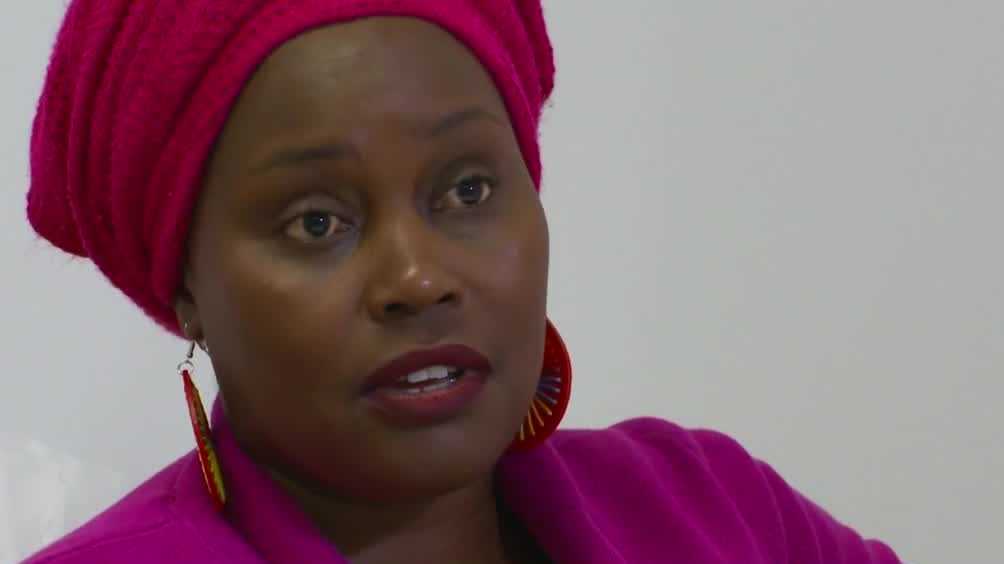 Across the country, people observed Juneteenth in their own ways. Some took to having celebrations, others looked to continue the push for social justice, and then there were some people who stopped to take a look at what the new federal holiday means to them as business owners. "It's a moment of learning and it's a moment of respecting those who have created a path," said Nancy Mwirotsi, a serial entrepreneur in Des Moines known for founding PI 515, an afterschool program for kids introducing them to STEM and tech.Saturday found Mwirotsi looking back on not just her accomplishments, but the accomplishments she's seen throughout Des Moines when it comes to Black entrepreneurs. Most recently, Mwirotsi ran an entrepreneur summit for girls and is already seeing fast results. "We have one girl actually who is filing a patent and we have two girls who have already launched their businesses online," Mwirotsi said. Mwirotsi moved to Iowa's capital 20 years ago and still has vivid memories of what it looked like then. It's part of why she works so hard to encourage younger generations to aspire to become entrepreneurs. "I remember when we only had one African business," recalled Mwirotsi. "Now if you go on MLK, Hickman — I would say we have over 30 African businesses in just the Des Moines metro." Gursha Ethiopian Grill off of University Avenue in the Drake neighborhood is one such business. Owner Salah Salah is the co-owner of the family-owned business that opened this July. "Twenty years ago my dad opened a business," recalled Salah. "It was not as easy as it is now."Looking at it now as a business owner himself, however, Salah says it's clear times have changed. Gursha Ethiopian Grill is receiving support from a community that may not have been seen years ago."It was more Americans," said Salah, thinking back to how well-received news was of the grill opening. "I was shocked they knew about Ethiopia." Salah was shocked but is also very appreciative of the still constant support he's seen over the last six months since opening. Despite opening during the pandemic, Salah and his family have seen nothing but success. It's the type of success but he and Nancy Mwirotsi looked back on and shared with KCCI this Juneteenth. "Yes, we've gone through the struggle," Mwirotsi said. "But guess what? There's always a light at the end of the tunnel. How do we get there? We have to get there together."
DES MOINES, Iowa —
Across the country, people observed Juneteenth in their own ways. Some took to having celebrations, others looked to continue the push for social justice, and then there were some people who stopped to take a look at what the new federal holiday means to them as business owners.
"It's a moment of learning and it's a moment of respecting those who have created a path," said Nancy Mwirotsi, a serial entrepreneur in Des Moines known for founding PI 515, an afterschool program for kids introducing them to STEM and tech.
Saturday found Mwirotsi looking back on not just her accomplishments, but the accomplishments she's seen throughout Des Moines when it comes to Black entrepreneurs. Most recently, Mwirotsi ran an entrepreneur summit for girls and is already seeing fast results.
"We have one girl actually who is filing a patent and we have two girls who have already launched their businesses online," Mwirotsi said.
Mwirotsi moved to Iowa's capital 20 years ago and still has vivid memories of what it looked like then. It's part of why she works so hard to encourage younger generations to aspire to become entrepreneurs.
"I remember when we only had one African business," recalled Mwirotsi. "Now if you go on MLK, Hickman — I would say we have over 30 African businesses in just the Des Moines metro."
Gursha Ethiopian Grill off of University Avenue in the Drake neighborhood is one such business.
Owner Salah Salah is the co-owner of the family-owned business that opened this July.
"Twenty years ago my dad opened a business," recalled Salah. "It was not as easy as it is now."
Looking at it now as a business owner himself, however, Salah says it's clear times have changed. Gursha Ethiopian Grill is receiving support from a community that may not have been seen years ago.
"It was more Americans," said Salah, thinking back to how well-received news was of the grill opening. "I was shocked they knew about Ethiopia."
Salah was shocked but is also very appreciative of the still constant support he's seen over the last six months since opening.
Despite opening during the pandemic, Salah and his family have seen nothing but success. It's the type of success but he and Nancy Mwirotsi looked back on and shared with KCCI this Juneteenth.
"Yes, we've gone through the struggle," Mwirotsi said. "But guess what? There's always a light at the end of the tunnel. How do we get there? We have to get there together."
###[ad_2]
Originally Appeared Here