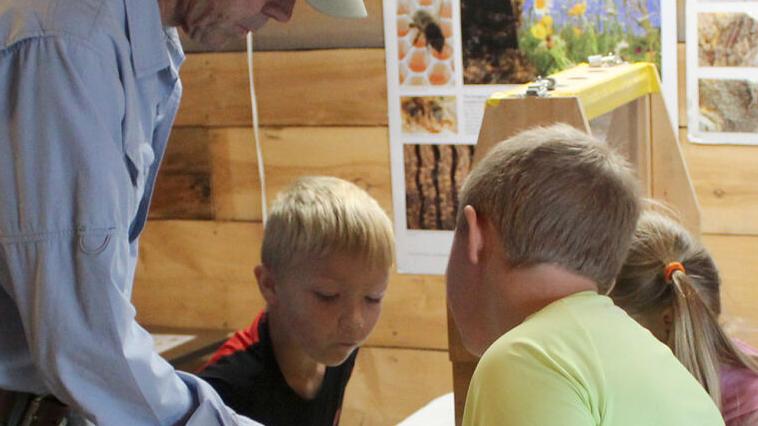 Chuck Cedar from Hibbing, Minnesota shows a group of kids at the Carlton County Fair what his queen bee looks like, while they were visiting the North East Minnesota Beekeepers Association booth. 

Alanea White

Take classes or join a bee club, advise beekeepers Tony Letourneau and Bill Randall. They agreed that advice helped them become more successful in the beginning of their ventures and avoid a few common pitfalls.
"A lot can go wrong," Bill said. 
His son, Zander, decided to take up beekeeping to earn a merit badge for boy scouts in insect studies 12 years ago. "The other kids studied monarch butterflies," Nancy Randall said with a laugh. Her son earned his badge and continued to grow his hives into a family hobby. His parents took over while Zander left for college.
Tony, 54, wanted to improve the pollination in his garden for a better bounty. He said his goal is to have a sustainable lifestyle on his country property on the border of Hinckley and Cloverdale. He attended a day long Bee Symposium at Fond du Lac Tribal and Community College in Cloquet. The winter class is a partnership with the Northeast Minnesota Beekeepers Association and helps newbies navigate the beekeeping process. Topics can include, equipment, general troubleshooting, hive health and bee behavior.
Jeff Charnes, member of the beekeepers association, said they keep hives at the college and use them to help educate newcomers. 
"In normal years we sponsor hive inspections with our club maintained hives at FDLTCC before each regular meeting," Charnes said. "This gives people who are new or uncertain a chance to watch and work with one of our "pros" to get hands-on experience in a controlled environment."
He said they also offer members the opportunity to order bees. The bees are ordered in January and delivered in the spring.
"The difference in the garden was amazing," Tony said. "Even the maple trees did better. It was jaw dropping."
He purchased his first swarm, including the very important queen bee, for about $130 through the bee association. 
He said sometimes bees will divide their swarm. His one swarm divided and he went from one hive to nine in his first summer.
"The first year was insane," Tony said. "Bees do what bees do. I had to climb to the top of a tall pine tree to catch a swarm of bees that had divided from their group."
The Randalls had a similar situation their first year while Bill was away. Nancy called in a panic because a swarm of bees broke off and were grouped together. She eventually called a neighboring beekeeper to help her move the swarm into a hive.
Tony joined the beekeepers association. They hold monthly meetings at the college in normal times, but virtually since the pandemic and serve residents from Hibbing to Hinckley. 
Bill and Tony said one of the first things they learned during class was to put up an electric fence immediately to deter hungry bears looking for a sweet treat.
Bill said he took Zander to the University of Minnesota for classes when they first started the project. 
Another challenge for many in Minnesota is to keep the bees alive through the winter. Tony explained they use their tiny wings to cool the hive in the summer and warm it in the winter months. He said moisture in the hive during the winter causes many bees to die. 
Two out of nine hives survived the winter his first year of beekeeping, said Tony. He feeds the bees honey and pollen patties in the winter. 
Both families said their hobby can cost more than they make selling bee products. 
Each bee hive is about $300. 
Last year a bear destroyed Tony's last surviving hive and he did not get any honey. This year he has 100 pounds of honey. He uses the bee wax to make mustache wax and beard balm, which he sells to friends and people from his church on request. He is also experimenting with a coffee flavored honey. Tony is in the process of preparing to sell his bee products at the new candy store in Cloverdale. 
The Randalls extracted 15 five gallons pails of honey this year. They said honey collected in the spring is clover flavored and lighter in color than the fall honey. Nancy said there are several steps in the extraction process; scrape the end caps off, extract the honey from the frames, filter the honey to catch stray pieces of wax or little bee legs or wings and finally to bottle the finished product. They also make cute little beeswax candles and chapstick. The Randalls have a steady following that purchase their products and are not interested in expanding their hobby.
Tony said anyone interested in more information or to purchase honey can call him at 320-279-7528.
###[ad_2]
Originally Appeared Here