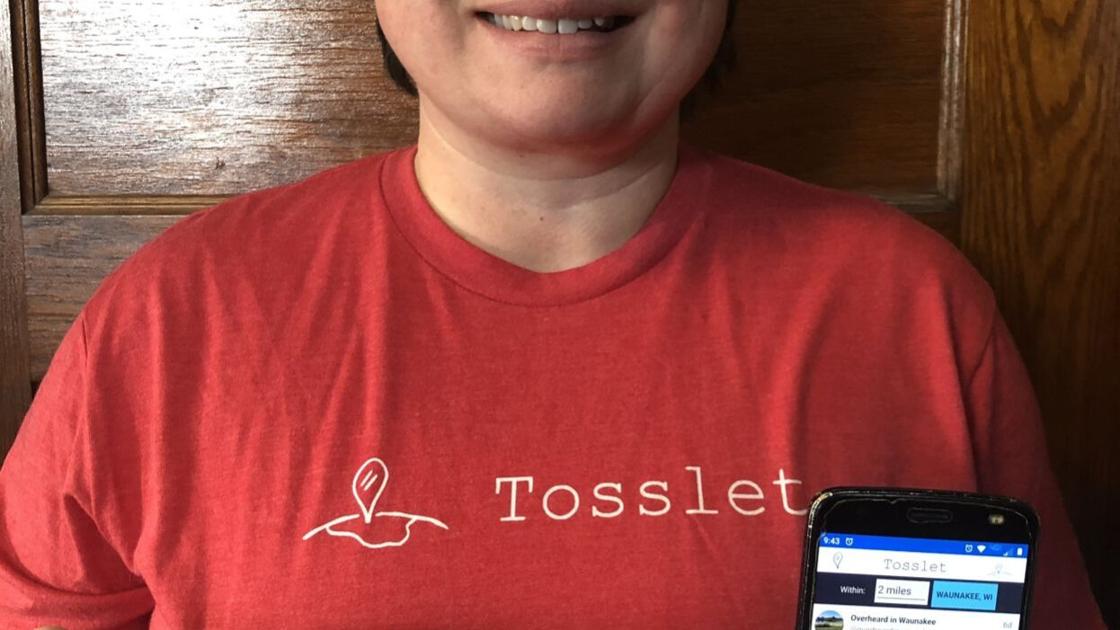 Starting next week, Forward Fest 2021 will offer thousands of entrepreneurs in the Madison region 60-plus events where they can network and learn from one another.
The eight-day festival, spanning Aug. 12-19, will feature workshops, happy hours and conferences, all aimed at providing entrepreneurs tools to succeed.
Hilary Stohs-Krause, who serves on the Forward Fest board, described it as a "community initiated event," hosted by the business owners, "really drawing from the breadth and experience that happens within the whole community."
Now in its 12th year, the festival has stretched to locations throughout the Madison region, adding to the diversity, with more events than ever before, said Stohs-Krause, who is the co-owner of Ten Forward Consulting.
One venue will be in Waunakee on Aug. 15, when local programmer Caeli Rice will host a relaunch party for the social media app Tosslet she and co-founder Stephan Woods developed. Rice booked the party at Lone Girl Brewery, just a few blocks from her house, noting she has missed going there during the COVID-19 pandemic.
"It will be a nice return for me," she said.
Tosslet is a first-of-its-kind social media app that Rice called more one-way, allowing organizations and municipalities to set up accounts and purchase "tosses," or messages about events at a specific location.
"If you're hosting an event at Schumacher Farm or at Lone Girl, you set the location in a dashboard and toss out a message about what's happening there," Rice said.
Those who have downloaded the app for events nearby then catch the toss, but no personal information is collected about the users.
The "catchers" and "tossers" have no other interaction. Instead, the communication is centered around the events at those specific locations.
Tosslet was designed with privacy in mind. Rice said "tossers," organizations that set up accounts to inform others of events nearby, are asked to provide the least amount of information possible.
Just an email and password combination is needed for organizations in order to set up an account.
"Outside of that, we're not asking for any other personal information. But even if we did, we wouldn't sell it or anything. But we're trying to make a point that we don't need this information; therefore, we're not going to collect it," Rice said.
Unlike Tosslet, other social media platforms encourage users to interact online. While Rice noted that many connections on Facebook and other apps are positive, she is concerned about the nature of some social media discussions.
Some sites "promote discussion amongst neighbors about important issues that deserve discussion," Rice said. But she noted "having those discussions on online social media platforms has been unproductive in many cases." It has led to name calling and greater division, she said.
Rice said she and Woods hope with Tosslet, people will engage in what is happening in their communities and meet in person or virtually at events. Those can be perhaps better venues for conversations.
"I have also resisted engaging in online social media discussions since I do not think they are the best platform for having good faith discussions about local topics," Rice said.
Rice has learned that building a two-sided marketplace is "not a trivial task," she said. Both sides need to be robust to be attractive.
Tosslet did a small launch last fall, but push notifications were not built into the app then. Now, those who have downloaded Tosslet can follow accounts and opt to be notified of their tosses.
"This is kind of like a relaunch, per se, with a more completed feature set, and then on top of that, the locations were restricted," Rice said.
Now, users can specifically hone in on certain locations.
The founders do not want a user's GPS system to be used, Rice said.
"Within our whole mission and vision and value system is, we're not tracking you, and we don't want your location," Rice said.
The Aug. 15 open house at Lone Girl will feature food, drink and coupons for  organizations signing up to toss messages.
Organizations on Tosslet that are interested in being showcased at the event can reach out to Rice via email at caeli@tosslet.com. They'll receive free tosses as well.
Rice has attended previous Forward Fests, noting the programs and venues are varied. They include happy-hour networking events, local panels with entrepreneurs discussing what has and hasn't been successful, and programs on graphic design and funding.
Many are focused on technology because it plays such a large role in every business today, Stohs-Krause said.
Stohs-Krause noted that the festival offers a way to get business owners out of their "bubble."
"It's good to have that support system within your own micro-community. I think what Forward Fest does a really good job at is pulling together all those different communities and bringing the focus onto the community at large."
Biotech workers mingle with information technology (IT) experts, and even roller derby skaters, all of whom are start-ups, Stohs Krause added.
"We have an event with the Girl Scouts this year, and comedians," Stohs-Krause said.
As entrepreneurs, they all share some of the same interests. This year, social impact is a theme in the festival, which will offer programs on ethics as well.
"Forward Fest really looks at what does it take to be successful as an entrepreneur? We have a piece on internship programs, marketing, branding, how do you network virtually… everything from how do you stay healthy at work," Stohs-Krause said, noting all events are hosted by the entrepreneurs themselves.
Events will be held both online and virtually, and many are free. To see the full list and register, visit www.forwardfest.org
###[ad_2]
Originally Appeared Here