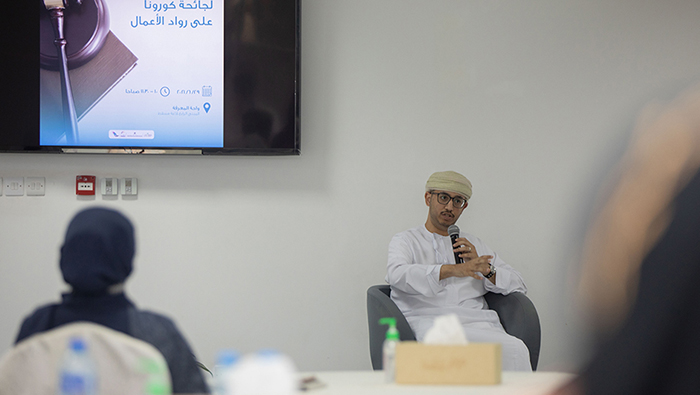 Muscat: The National Business Centre (NBC), which falls under the umbrella of the Public Establishment for Industrial Estates – Madayn, organised a discussion session on the legal impact and challenges posed by COVID-19 on entrepreneurs.
Moderated by Rihab Fadhal, Director of Councils and Committees at Madayn, the session featured the lawyer Nasser Al Riyami, Law Lecturer – K&Co LLP, who highlighted several topics related to types of companies, e-commerce, lease agreements, insolvency litigation, partial versus complete lockdown, the variation between liquidation and bankruptcy, COVID-19 pandemic and the judiciary, and amicable settlement of disputes.
The series of discussion sessions organised by the National Business Centre aims at exchanging viewpoints and expertise on a variety of topics of interest and benefit to the entrepreneurs. NBC is an initiative launched by Madayn at the Knowledge Oasis Muscat to offer promising Omani entrepreneurs a platform to develop their business ideas and advance them into growing ventures.
The centre offers a premier platform for Omani entrepreneurs by providing business development support and guidance, training and mentoring, access to markets and industry experts, and state-of-the-art and fully-equipped office spaces, meeting rooms, and presentation facilities.
###[ad_2]
Originally Appeared Here