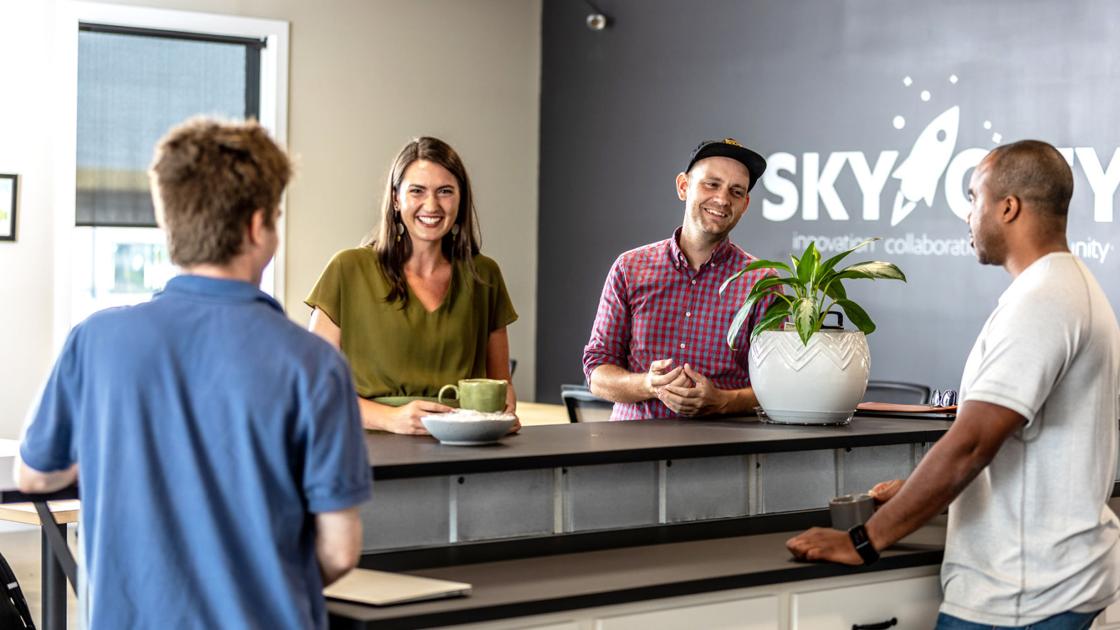 When COVID forced the temporary, and in some cases permanent, shutdown of some businesses in 2020, employees with more time on their hands began testing the waters of creating their own start-ups.
As most who have tried it know, that can be a daunting, scary process and many ultimately fail.
Jeremy LaDuke, chairman of the board for the nonprofit Sky City Initiative, is an entrepreneur himself, founder of Epic Nine Marketing Outfitters in Maryville. He and other business leaders in the community came together to form Sky City to give potential entrepreneurs the space and tools they need for the long haul.
"When you are getting started, it's like you are walking down a trail," he said. "There are so many opportunities for you to trip and fall off the edge of the mountain. And so many people do. What we are trying to do is smooth that trail out, help them run faster and safer so all that money and time and effort pays off for them and Blount County as a whole."
This new co-working space is at 429 S. Washington St. in Maryville. Members of Sky City pay monthly fees for access to the large co-working space complete with Wi-Fi, kitchen and office amenities. There are individual offices for rent by the month too. The office complex has a large meeting center that can be rented by any outside organization for workshops, retreats, etc.
Sky City had just gotten off the ground in early 2020 when it was forced to close due to the pandemic, LaDuke explained. It reopened in January and has members who take advantage of these resources daily.
"This space," LaDuke, said, "is the biggest manifestation of what our mission is about. That is to encourage and help entrepreneurship thrive in Blount County."
Partial funding comes from the cities of Maryville and Alcoa and also Blount County, LaDuke said. Revenues are generated from rental space fees.
Entrepreneurs find one another
The first step, he said, was to figure out who the entrepreneurs are in this community. Sky City made an inroad into that by hosting some large events to attract them. As LaDuke and the others on the board listened, they heard some of the same complaints — that there is no decent, affordable office space.
Sky City, explained Shannon Bryant, the community manager, is now home to some start-ups who came to realize they could come here instead of rent offices they didn't need at prices they couldn't afford. She said they instead rent Sky City co-working space by the day or week. Those who need privacy can rent the individual office spaces. The conference room can be rented by the hour.
But this nonprofit's mission is not to solely offer work space. LaDuke and Bryant said another component is education and mentorship. Sky City has been offering its Journey Nights this year, a chance for entrepreneurs to hear from those who've been successful.
In coming weeks, those looking to become business owners can take advantage of Sky City's offering of Co-starters. It is a nine-week program for anyone who has recently started a business or who is thinking about it, LaDuke said.
The program got its start in Chattanooga. LaDuke said that city has a large downtown building dedicated to entrepreneurs and how to grow them. There is even a small manufacturing incubator where entrepreneurs can come to physically make their products, LaDuke said. One guy there was able to make and bottle his own barbecue sauce.
"Right now, Chattanooga is a hub for entrepreneurship," he said. Knoxville is also doing some similar things, he added.
LaDuke admits he could have used some advice as he developed his own company. The problem has been where to go to meet others doing the same thing.
The Journey Nights have brought like minds together. Sky City is also hosting some "side hustle socials," Bryant said. They select a local meeting place and interested people show up to share their experiences and listen to others.
"It is a leap of faith," Bryant said. "A lot of people are starting businesses on the side as a side hustle. At some point, their side hustle becomes their real thing."
Members find plenty to like
Jorge Chaparro was working this particular day in Sky City's co-working space. He has started a tech company and said this model fits his needs.
After working in corporate America, Chaparro said he is a strong believer in entrepreneurship. "I love it here because it's practical and I get to meet a lot of other people," he said.
Levi Nunnink moved here from California and is starting a software company. He said the co-working space is just what he needs. "There are a lot of transplants here," he said. "This has been awesome."
Phillippe Siclait lives in Boston but his wife's work brings him to Blount County often. Working at Sky City is a great option, he said. He also has started a software company with team members in Boston, California and Florida.
"This space fits my needs," he said.
As Bryant explained, not everyone likes working from home. There are distractions, and motivation can become an issue. Coming into a work environment helps some people focus and provides interaction with others.
As the list of members grows, LaDuke and Bryant are confident these entrepreneurs will feed off each other.
"Blount County is innovative and entrepreneurial," LaDuke said. "We are trying to take that and run with it."