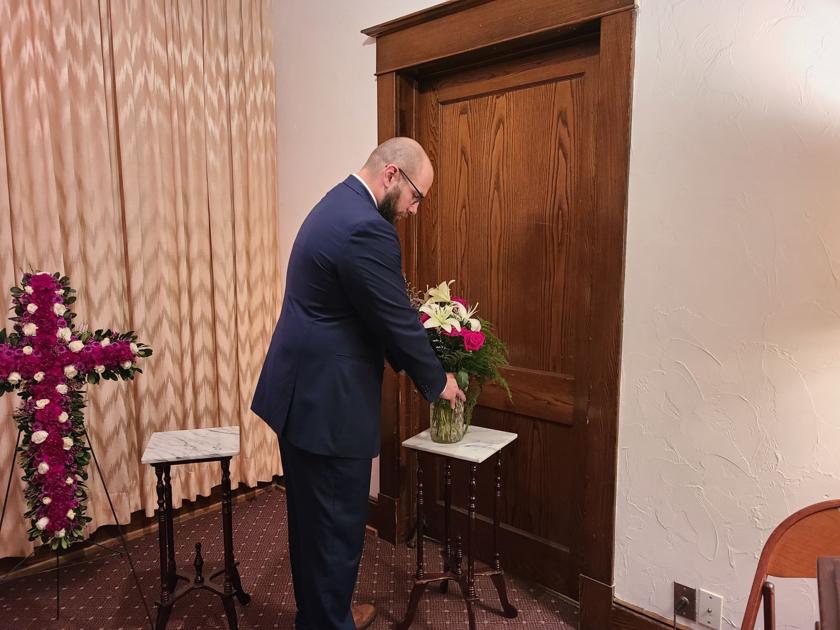 After graduating from Tyrone Area High School and moving on to Edinboro University, Terry Tate said his psychology major steered him down a different path: mortuary school.
"I have always been interested in being a funeral director," Tate said. "Through some of the classes I had to take, I discovered my interest in the (funeral director) field and began looking into mortuary school."
Tate, now 34, graduated from Edinboro University in 2009 and immediately went on to the Pittsburgh Institute of Mortuary Science. In 2010, Tate graduated with an associate's degree and completed his internship with Searer Funeral Home in 2012.
"I have been here since," Tate said.
In 2017, Tate was offered the opportunity to take ownership of the funeral home.
"I was fortunate enough to work for the Searers," Tate said. "After Mr. Searer's passing, I was asked if I would be interested in purchasing the business. I feel honored to have the opportunity to continue the long legacy of the funeral home."
In April of this year, Tate also took ownership of Feller Funeral Home, after the director decided to retire. In both cases–taking over Searer and Feller–Tate said his role with either business is not so much entrepreneurial as it is a calling.
"I think it has been more of a call to action," Tate said. "As I said before, with Searer, it was an opportunity to continue a long-standing legacy. With Feller's, it was also an opportunity to do the same. Prior to the purchase (of Feller), it was very clear how much the act of serving the community meant to Mike and Sue and how much it meant to Mike's parents who started the business. A funeral home isn't a normal business, it's a call to service and it's a call that most funeral directors can't ignore, no matter how much they may try. I think the title 'entrepreneur' is a bit misleading in this case. We had an opportunity in both instances to answer a call to serve and we answered them."
With taking on a second funeral home, Tate said the horizon looks pretty even-keel.
"I think the immediate horizon is just to continue getting comfortable with things (at) Feller's and making sure we're providing our families … with what (they) are used to having," Tate said. "We'll continue to provide the same service at Searer's that our families have grown used to over our 165 plus years of service to the community."
Tate said what he enjoys the most about being a local funeral director is serving the people of Tyrone.
"I am happy to have built a trustworthy relationship with the community that they feel confident in our ability to provide a service to them in such a delicate time of need," Tate said.
Reflectively, Tate regarded the opportunity to be an entrepreneur in his hometown as delightful.
"Being able to be back in the community that I grew up in and serve has been an amazing experience," Tate said. "The people that we have had the opportunity to meet and develop relationships with have been wonderful."
A member of the Tyrone Improvement Group, Tate said the camaraderie of other local entrepreneurs has also made his own entrepreneurial experiences enjoyable.
"The local business community is very supportive," Tate said. "Some of the other local business owners have become like family to us. It's just a very fun and exciting thing to be a part of."
Like many in that family of business owners, Tate hopes more young people follow suit and become entrepreneurs themselves. Tate advises anyone attempting such a pursuit to be as altruistic as possible.
"You have to put people first," Tate said. "You are not the most important person; the people who you are serving are."
###[ad_2]
Originally Appeared Here