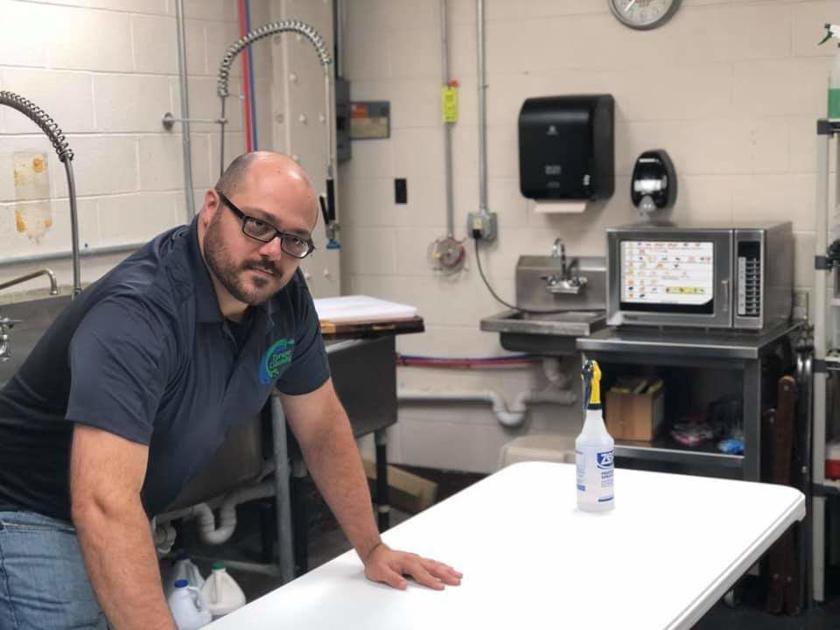 Tyrone-born-and-raised David Snyder gleaned what he needed to understand about being a local entrepreneur on YouTube.
"I learned everything I know for Tyrone Cleaning and Ingenuity Media by speaking with those in the fields, through personal experience, and mostly from watching YouTube tutorials, particularly in the beginning," Snyder said.
After graduating from Tyrone Area High School in 2001, Snyder went to Pennsylvania State University. It was during his time at PSU that he pondered becoming an entrepreneur.
"While attending Penn State, I was promoted to shift supervisor at Panera Bread, on the corner of Allen and Beaver in State College," Snyder said. "I remember locking up after a particularly busy day during Arts Fest and thinking to myself 'in 10 years, nothing I do here is going to matter or even be remembered. I want to spend my life doing something meaningful.' I started my first business two years later."
Snyder graduated from Penn State in 2007 and launched his first company: Ingenuity Freelancing–a search engine optimization content creation endeavor, which he operated from 2008 to 2011. After getting married in 2014, Snyder decided to come back to his hometown and establish two businesses: a cleaning company and a media studio.
"Entering into the cleaning industry was a complete accident," Snyder said. "Back in 2011, while I was living in the Washington DC metro area, I was having coffee with a friend who happened to be the dean of a private school in the Vienna, Virginia area. She mentioned she was having difficulties with their cleaning company and, in typical fashion, I paused for a moment and murmured, 'Huh, I could do that.' She took me seriously and within a week, their school's board approached me with a job offer."
Eventually, Snyder re-established his cleaning company in Tyrone, rebranding it Tyrone Cleaning Services and offering commercial cleaning services for businesses, offices, factories, and medical facilities. He also established Ingenuity Media in Tyrone.
"My media business was born from genuine interest," Snyder said. "In fact, I was working in media for a non-profit in Vienna, Virginia, at the time of the accidental cleaning company launch. My former employer also became a client and, with the financial blessing being given, media work took a backseat (until) 2017 when we launched Ingenuity Media."
Ingenuity provides a managed, less expensive WordPress hosting platform with more features than mainstream web development options. with more features. Snyder said the common element he enjoys the most about both of his businesses is the people.
"Always, always the people," Snyder said. "Our clients, our employees … they are the ones that make everything we do meaningful."
Of course, like anything, Snyder's entrepreneurial experiences have been challenging at times.
"In all honesty, my greatest challenge has been dealing with the state and learning, in many cases the hard way, how Pennsylvania does business," Snyder said. "The state makes things so difficult sometimes that I've flirted with running for higher office to begin poking holes in their logic … something I'm grateful to say our local reps have been attempting to do."
The now 38-year-old Snyder is actively purchasing properties on which a new facility can be constructed both to house the cleaning business and studio space. Having both of these endeavors in Tyrone is important to Snyder.
"I felt a calling to come back and contribute," Snyder said. "Although running for council was not on my mind at the time, this same calling is what motivated my run in 2017. When it comes to developing Tyrone, I greatly admire people like the Sicklers, the Grots, or the Russells, who have poured resources into our older buildings and institutions and made something out of them. For us, our contributions have been in the job creation category, for which we are eternally grateful."
It's his experiences in Tyrone, both before and after becoming a local entrepreneur, that has meant the most to Snyder.
"I strongly believe that the zeal of the youth must marry the wisdom of our elders," Snyder said. "My most positive experience since bringing my entrepreneurial efforts back home has been getting to know and learning from those who came before me. I spent more time asking people like Lori Eckert and Rose Black questions about Tyrone and 'the lay of the land' more my first few years than perhaps I should have. What I learned, not to mention the respect I gained about life, business, and Tyrone's community-centric culture, made me a better councilman, a better businessman, a better person all around. These lessons will remain with me beyond my entrepreneurial efforts."
It's the contribution of seasoned entrepreneurs that Snyder hopes newer, young entrepreneurs consider a valuable commodity.
"Remember that you are building something meaningful, but you're building it alongside many others who are either doing or have done the same thing," Snyder said. "Learn from your elders, respect your employees, serve your clients … be humble."
###[ad_2]
Originally Appeared Here